What is a Breast Lift?
Breast lift surgery (also known as a Mastopexy) is a procedure to raise and re-shape sagging (ptosis) breasts. Breast lifts are performed by re-sculpting the breasts and removing the excess or stretched out skin, which has allowed the breasts to droop. The size of the breasts does not change after the breast lift, but the surgery will leave the breasts with a lifted and youthful appearance.
Incisions for Breast Lift?
Around the areola only incision is technically referred to as a "peri-areolar" incision, but is it also called a "Benelli Lift" after the surgeon who pioneered the technique.  This is for a patient with mild sagging, and is used a lot with the placement of implants.
Around the areola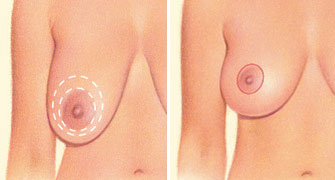 Techniques vary, but the most common procedure involves a "lollipop" or "anchor" shaped incision. This method of lifting the breasts involves two to three incisions. One incision is made around the areola. Another runs vertically from the bottom edge of the areola to the crease underneath the breast (lollipop). Sometimes a third incision is used horizontally beneath the breast. This is necessary if a large amount of skin needs to be removed.
Around the areola and vertically down from the areola to the breast crease "lollipop"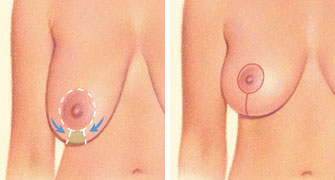 Around the areola, vertically down from the breast crease and horizontally along the breast crease "Anchor"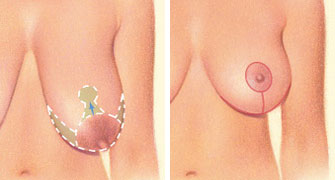 After excess breast skin has been removed, the nipple and areola are shifted to a higher position. The areola, which in a sagging breast may have been stretched, can be reduced in size at this time. The skin surrounding the areola is then brought down and together to reshape the breast. The nipples and areolas remain attached to underlying mounds of tissue, and this usually allows for the preservation of sensation and the ability to breast-feed.
If additional breast fullness is desired, it may be recommended that a breast augmentation procedure also be done, with the insertion of breast implants (either silicone or saline) at the same time that the breasts are lifted.  This is also the case if you would like smaller breasts.  A breast reduction can be done to help you achieve your desired look.
Breast lift surgery will make your breasts firmer and more uplifted, enhanced, and the size of your areolas will be aesthetically pleasing. A breast lift can restore a woman's prior figure and, along with it, her sense of confidence in her body.
How long is breast lift surgery? 
Breast lift surgery is preformed at our accredited onsite facility. A breast lift surgery last 1.5 hours.  Plan on arriving 1 hour prior to your surgery and staying 1 to 2 hours after for recovery.  Our nurse and anesthesiologist will call you the day before to answer any questions and give you an exact arrival time.  Most patients find that they may be up after a day or two following breast lift surgery. It is often possible to return to work within a week or so, depending on your job. In many instances, you can resume most of your normal activities, including some form of mild exercise, after two weeks.
Your breast lift consultation 
Your decision to have breast lift surgery in the Sacramento basin,  is a highly personal choice. Before you make your decision, do your research and find a board certified plastic surgeon that specializes in this procedure and make sure you feel comfortable with your surgeon's skill, reputation and bedside manners. When you are ready to discuss your option, contact us to find out how Dr Freed can help you achieve your breast size goals. Being in a healthy state both physically and emotionally will also be critical in achieving a great outcome.